So you want to buy a vehicle on Facebook?
So you want to buy a vehicle that you saw on Facebook, and it looks like a really good deal! And honestly some of the best deals can be found by searching Facebook Marketplace, right? Right! However…there are some things to be watchful of, so you don't get taken advantage of online, and end up the victim of a Facebook Marketplace Scam.
When looking for a new vehicle, most people are looking for something specific, like a really good quality vehicle, that looks reasonably nice (no rust) and, something that's mechanically sound. The important thing to bear in mind, is that there are also lots of people out there that also want the same kind of deal as you, and you may not always be as lucky as you think.
Today I'm going to walk you through a couple of examples of listings that look to be great deals, but may not quite meet the standard, and could lead you down a slippery slope towards losing some money, or precious time when trying to purchase a new vehicle.
This 2010 Acura TL
This 2010 Acura TL Looks like an awesome deal! A 12-year-old car, that's basically a luxury Honda for 1400 dollars seems like a steal of a deal right? Well…it would be, if this deal was real at all. For this deal there are some indicators that could tell you it's fake just by looking at this image.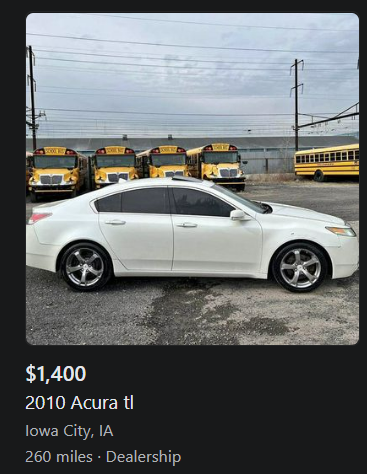 Take a look at the price. Price is the first dead giveaway that this deal is too good to be true. Typically you will see nice round numbers from a seller that is just trying to get a chunk of change, but that's no reason to discount it entirely. Just looking at what you're getting, and the price of 1400 dollars, it almost seems to good to be true, and if you had that instinct, it's because you're right!
Notice the Mileage. While not always a dead giveaway, the mileage on this post throws up red flags. There's almost zero chance that a 12-year-old car would only have 260 miles.
The formatting of the text on the model of the car. The model of this vehicle is a TL, and most people that post their vehicle for sale online have already owned the vehicle for several years. Most people that post their vehicle for sale, often double and triple check their posts to ensure that there's no typos, so as to ensure that people will actually express an interest in their posting. This I can say speaking from experience.
So, what happens if you reach out to this person?
I always like to take these posts as far as I can and give you an example of what could happen to you if you're not careful. The initial response back from the Facebook posting is one that I expected. Having done this several times, and being pretty adept at detecting these scams, I knew what to expect.
After reaching out to this person, I received a message back on Facebook telling me the seller was actually selling the vehicle for their aunt who isn't on Facebook.
Since this is a pretty canned message, don't expect to receive a response immediately, or even at all if you choose to reply to the message. Typically, you won't receive a response back from the person on Facebook, however I find that if you do send them a Facebook Message right after you've emailed the address provided, then you'll get a bit of a quicker response. So now begs the question, where does all of this go? How does it end?
How does it all conclude?
At this point if you've gone so far as to email the seller on their Gmail, you're in for a real treat. Broken English, a Poorly explained reason for selling the car, and maybe something tragic, is what you can expect back for a response from your seller. Below are some images of the email communication I had back and forth with this seller, who you can see…didn't even bother to acknowledge most of my initial questions.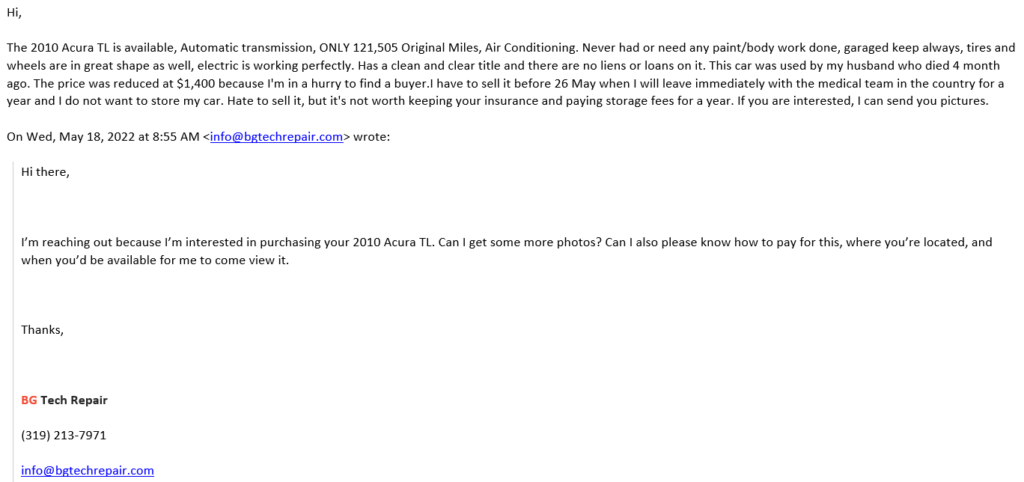 As you can see, the questions I initially asked were disregarded, and she gave me a long winded response about how her husband passed away and she's selling the car. I sent yet another email, and then received a response with more photos of the vehicle. Below is the message asking me to undergo some complicated process just to see the vehicle, test drive it, and pay for it, which will supposedly be arranged through eBay? I can't warn you enough…if you receive an email like this…DO NOT MOVE FORWARD.
In conclusion, be careful out there! While the images of this vehicle match, there are lots of other red flags that should concern you before you'd ever reach the end of this scam. Many times in the past people have asked for Western Union Money transfers, however nowadays, there are scams on almost every platform, so it's crucial to remain vigilant, and always be on your guard when buying something on Facebook, especially when it comes to larger purchases such as a car.